wedding dress
Remember how I got married last year (September 8th, 2012 at 5:30 p.m. to be exact) and I kept promising wedding photos? And I promised to blog about my dress? And remember how I never did? UNTIL TODAY! Our wedding is featured on Oh Lovely Day today, so be sure to head on over to Chandra's blog (we have the same name!) and see more photos and get some details about the day that I married my best friend Brandon!
The struggle for finding a modest wedding dress can be extremely difficult. I knew right off the bat what I did and did not want. The problem was trying to FIND what I wanted.
Did NOT want:
1. A bolero or a shrug over a sleeveless dress
2. A strapless dress with something attached or sewn over it
3. A poofy heavy princess-y like gown (I'm not a princess)
4. Tons of tulle
Did want:
1. Lace dress
2. Lace sleeves
3. Simple mermaid-like cut
4. Comfort and ease
I initially thought I'd get all budget bride and order my dress from eBay. WRONG. FALSE. FAIL. I saw a dress I liked on eBay and took a chance on it. When it arrived from China (DON'T DO IT) in April I knew that I had made a massive and HUGE mistake. After talking to several friends I realized that I might have to walk down the aisle in a Hefty bag, because they all told me that a. dresses can take months to arrive and b. uh, I made a mistake by not going to a bridal store. So of course I wanted to panic and panic I did.
After Yelping a bridal store about 30 minutes away from home I zoomed on over there on a Tuesday afternoon and this lil' ol' woman with the vision of a bat tried to help me find what I wanted by looking through a dozen books. I didn't like a single dress that was in the store and she laughed when I said I wanted a dress with sleeves.
Right when I was about to give up I found an Allure Bridals book and they had a collection of modest wedding dresses. I gasped! The lady raised her eyebrows in surprised and admitted that she never looked through that book before. hahaha She told me she could order the dress and it would arrive by mid-August (three weeks before the wedding). I snapped photos of the dress and its model number and went home and did some massive research.
I found two stores that had the dress in stock (not in my size) and I made plans to view it that Saturday. After driving an hour to Fresno that Saturday, I saw the dress, loved it, and then called Brandon's mom for some it's-not-what-you-know-it's-who-you-know action. She has a friend who owns a bridal store in Gilroy and my mother-in-love told me to call her. Call her I did! Lovely Mafalda convinced me that I had more than enough time to get my dress. She assured me that I could remove the cap sleeves and add 3/4 length sleeves to the dress. After she offered me a discount (music to my ears), I was sold. So guess how I ordered my dress? Over. The. Phone. THE PHONE, PEOPLE! I was in my classroom during lunch break and I ordered it without ever trying it on. When it arrived at the end of July I just knew that something would be wrong. With my mom, sister, and mother-in-law in  tow I tried on the dress, it fit, and I felt like the weight of 1,000 elephants had been lifted off of my shoulders/head/heart/body.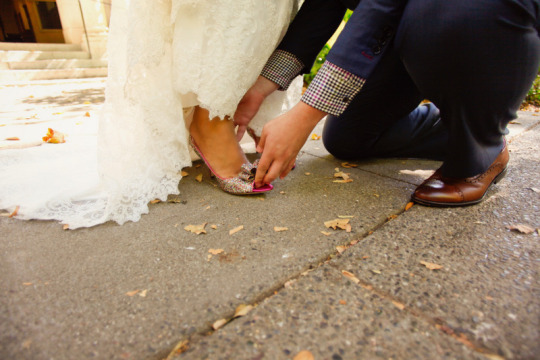 The best thing about the dress for me was that it was quick and easy. The lace part is actually detachable and worn over a silk sheath dress! The hardest part of the dress was buttoning up every single button, but of course I didn't have to do that part! The dress actually had cap sleeves (not an option for me), so I ordered an extra yard of lace for $40 and the cap sleeves were taken off and 3/4 length sleeves were added. YES!
 It was everything I wanted in a dress:
1. Lace? Check!
2. Vintage inspired look? Check!
3. Button detailed down the back? Check!
And now it's all boxed up never to be worn again. 🙁
Do you have a crazy wedding dress story? Or was your dress finding a bit more traditional and a lil' bit easy?
Wearing: Allure Bridals M476 dress and Kate Spade Charm heels
Linking Up: Faith in Fashion 
More Modest Wedding Dresses: