wedding
Remember how I got married last year (September 8th, 2012 at 5:30 p.m. to be exact) and I kept promising wedding photos? And I promised to blog about my dress? And remember how I never did? UNTIL TODAY! Our wedding is featured on Oh Lovely Day today, so be sure to head on over to Chandra's blog (we have the same name!) and see more photos and get some details about the day that I married my best friend Brandon!
The struggle for finding a modest wedding dress can be extremely difficult. I knew right off the bat what I did and did not want. The problem was trying to FIND what I wanted.
Did NOT want:
1. A bolero or a shrug over a sleeveless dress
2. A strapless dress with something attached or sewn over it
3. A poofy heavy princess-y like gown (I'm not a princess)
4. Tons of tulle
Did want:
1. Lace dress
2. Lace sleeves
3. Simple mermaid-like cut
4. Comfort and ease
I initially thought I'd get all budget bride and order my dress from eBay. WRONG. FALSE. FAIL. I saw a dress I liked on eBay and took a chance on it. When it arrived from China (DON'T DO IT) in April I knew that I had made a massive and HUGE mistake. After talking to several friends I realized that I might have to walk down the aisle in a Hefty bag, because they all told me that a. dresses can take months to arrive and b. uh, I made a mistake by not going to a bridal store. So of course I wanted to panic and panic I did.
After Yelping a bridal store about 30 minutes away from home I zoomed on over there on a Tuesday afternoon and this lil' ol' woman with the vision of a bat tried to help me find what I wanted by looking through a dozen books. I didn't like a single dress that was in the store and she laughed when I said I wanted a dress with sleeves.
Right when I was about to give up I found an Allure Bridals book and they had a collection of modest wedding dresses. I gasped! The lady raised her eyebrows in surprised and admitted that she never looked through that book before. hahaha She told me she could order the dress and it would arrive by mid-August (three weeks before the wedding). I snapped photos of the dress and its model number and went home and did some massive research.
I found two stores that had the dress in stock (not in my size) and I made plans to view it that Saturday. After driving an hour to Fresno that Saturday, I saw the dress, loved it, and then called Brandon's mom for some it's-not-what-you-know-it's-who-you-know action. She has a friend who owns a bridal store in Gilroy and my mother-in-love told me to call her. Call her I did! Lovely Mafalda convinced me that I had more than enough time to get my dress. She assured me that I could remove the cap sleeves and add 3/4 length sleeves to the dress. After she offered me a discount (music to my ears), I was sold. So guess how I ordered my dress? Over. The. Phone. THE PHONE, PEOPLE! I was in my classroom during lunch break and I ordered it without ever trying it on. When it arrived at the end of July I just knew that something would be wrong. With my mom, sister, and mother-in-law in  tow I tried on the dress, it fit, and I felt like the weight of 1,000 elephants had been lifted off of my shoulders/head/heart/body.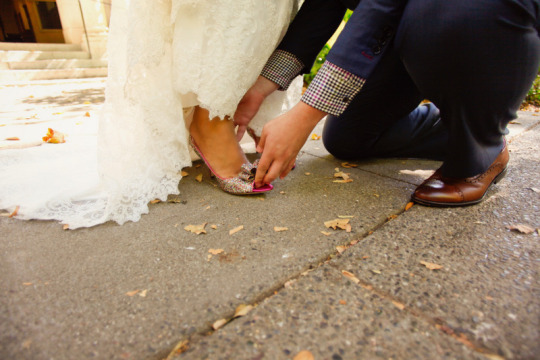 The best thing about the dress for me was that it was quick and easy. The lace part is actually detachable and worn over a silk sheath dress! The hardest part of the dress was buttoning up every single button, but of course I didn't have to do that part! The dress actually had cap sleeves (not an option for me), so I ordered an extra yard of lace for $40 and the cap sleeves were taken off and 3/4 length sleeves were added. YES!
 It was everything I wanted in a dress:
1. Lace? Check!
2. Vintage inspired look? Check!
3. Button detailed down the back? Check!
And now it's all boxed up never to be worn again. 🙁
Do you have a crazy wedding dress story? Or was your dress finding a bit more traditional and a lil' bit easy?
Wearing: Allure Bridals M476 dress and Kate Spade Charm heels
Linking Up: Faith in Fashion 
More Modest Wedding Dresses: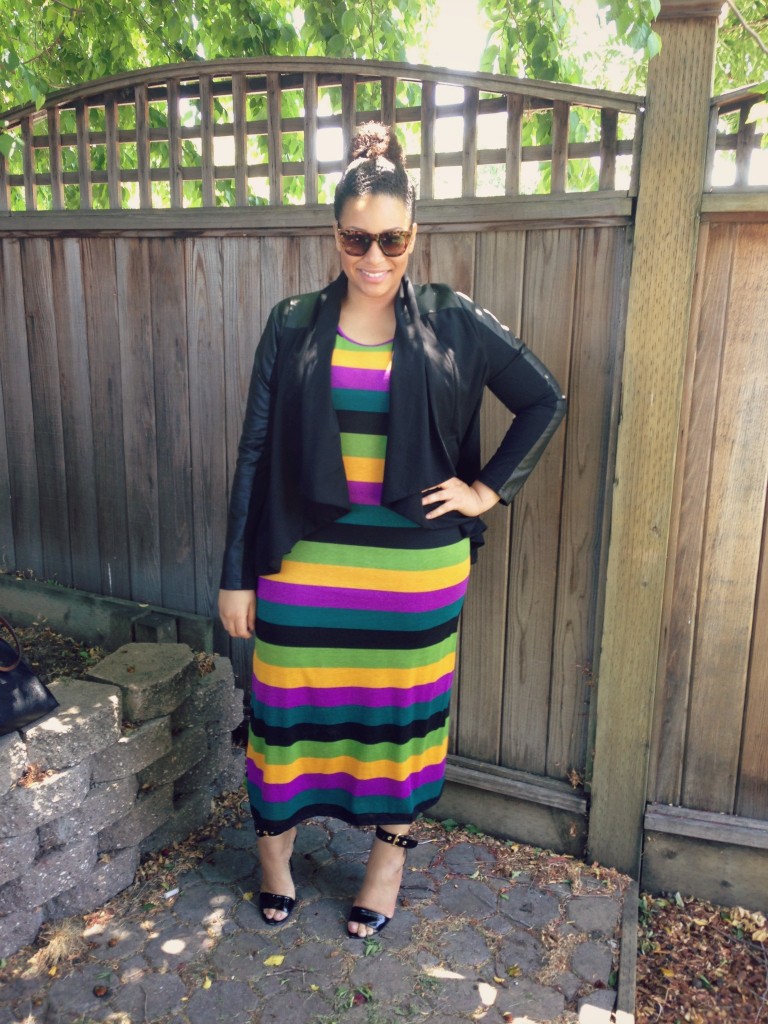 June 7th! It's coming! The end of the school year! I am stoked. This school year has been a very difficult one for me, and one day I'll have to blog about it. The people and situations I have encountered since last June has been all kinds of ridiculousness.
At any rate, the last day of school is Friday and I'm counting down the days.
Brandon and I are going to Portugal for three weeks in two weeks, so I'm starting to get prepared. Since I bought three comfortable maxi dresses for Fiji back in March I'm planning on taking those to Portugal. I also bought some fabric in February and I want to make myself some maxi skirts. I went to Ross on Saturday to look for some pillows and a gift for a friend and ended  up getting sidetracked. Ross is actually hit or miss when it comes to clothing (for me). I did find some affordable modest dresses and skirts on the racks this time around. I ended up buying this striped dress because I figured it'd be good for the beach while we're in Portugal.
Pros:
Dress Length. I like that it hits my ankles. I don't want to worry about my hem dragging the ground.
Comfortable. The dress is 100% cotton.
Cons
Thin. The fabric is very thin AND see through. I wore a black slip under the dress.
Cap sleeves. I prefer 3/4 length and longer sleeves, but took the chance with this dress because I knew it would be easy to layer.
ALSO!! I went to my friend Yvette's wedding on Memorial Day and a very odd thing happened. I was chillin' and mindin' my business when this beautiful girl came up to me and said she read my blog or knew I had a blog. I wanted to choke on my drink. Ha! At any rate, Yao is married to a friend I met at church camp years ago (Hi, Ben!) and we ended up sitting next to each other at Yvette's wedding. Good times! I told Yao that we needed to take a picture because she was wearing a great maxi dress that she bought from Forever 21. I didn't find the dress online, so if you like it you'll need to hit up your local Forever 21 store. Forgive the photo. I wish it was a better photo.
Last but not least…more ASOS love.
I wore this last Sunday and I already posted this pic on Instagram (did the filter give it away?) and Facebook, but forgot to share on the blog. If you like the skirt you can buy it here. Be sure to order a size down. I ordered my regular size and the skirt was a lil' big in the waist.
Outfit 1: Ross dress, Cotton On top, Guess heels
Outfit 2: JCrew Blouse (worn here), ASOS skirt, vintage purse, Mojo Moxy heels (similar, heel is different than my shoes)
I was cleaning up my room and organizing my closets this weekend and then it hit me. I'm getting married. Oh, and I'm moving away.
I've lived in the same one horse agricultural town since I was born. I've attended the same church since I was 8 days old. I've driven down the same roads all my life. I teach in the same school district I attended as a kid.
I'll have a new teaching job, a new home, a new church, and a new husband! This is all very exciting, but this weekend I felt a little sad. I will admit that I even cried a little bit.
There are some things that I WILL not miss about Delano, California.
I will not miss
the 110 degree summers.
the horrible drivers that sit and meditate at 4-Way stop signs.
the fact that citizens have to drive 30 minutes to get to Target or do a little shopping.
seeing tarantulas and snakes in my backyard during the summer.
being 4 hours away from Brandon (so long, 4 year long distance relationship!).
I will miss
living on 5 acres of land and not having any neighbors.
my church.
my family.
not having traffic jams.
hearing coyotes at night.
So on my way to church Sunday evening I figured that I might as well embrace my backyard and surrounding areas and spent a few minutes enjoying the almond orchards and my lovely memories.
When you got married how far away did you have to move? How did you feel about moving away?
Do you currently reside where you were born and raised? Where is home for you?
Wearing: Forever 21 blouse as seen here, lace maxi skirt from Marshall's $25 (I bought it this weekend), MIA Rock Candy shoes from eBay (another pair for sale in the MoMoMod store), antique brooch via Goodwill.

Things to Do:
1. I'm apart of a group giveaway! I'm giving away a free item from the MoMoMod store. Check out the giveaway here!
2. I wrote a new blog post on our wedding blog.
3. My fiance's latest creation, Pinstagram, has been receiving rave reviews. Visit the site!
I had to run some wedding errands yesterday (I had to see if a wedding dress I saw online was the one I wanted–it was!) and before going to my appointment I stopped at Forever 21. I honestly can't stand being in that store. I typically make my F21 purchases online or early in the morning right as the store opens for business. I got to the store just as they opened (9am!) and I was able to browse in peace.
This particular Forever 21 has three floors (AHHHHHHHHHH!!! MY HEAD!) and the top floor has hundreds, maybe even thousands, of stuff on sale. I had no plans to dig through the stuff, so once I found a few racks of skirts I quickly sifted through them and found the skirt I'm wearing today.
Every sale item was buy one get another item free. The skirt was marked down to $8.99, but when I got t the register it was and additional 50% off.
So I scored the skirt and a Japanese inspired buttonless cardigan wrap for $7.49 total (above; I bought the belt at a thrift store three weeks ago). They had plenty of different skirts, but the majority of them were small and medium sizes. When I tried the skirt on I figured I had either lost weight or Forever 21 mismarked their skirt. This skirt actually fit! Since I'm on a mission to drop 20 lbs I'm hoping I lost the weight!
This skirt is lightweight and will be great for summer. Woohoo!
In Other News
Modest bridesmaid dresses: WHERE ARE THEY? I only have two attendants in my wedding (my sister and my awesome friend), and both ladies have agreed to wear what I suggest. However, I can't find anything that I like! I thought about getting a dress made, but the fabric I like is WAY too expensive. David's Bridal? Ugh. That place is my last resort.
eShakti: I haven't found anything quite yet on the site that I like for my wedding.
Shabby Apple: My friend ordered her bridesmaid dresses through the company and the girls were not a fan of the fabric or the quality of the work.
So, I need your help. If you've been in a wedding let me know where you found your dress. Brides, what did you do about modest wedding dresses?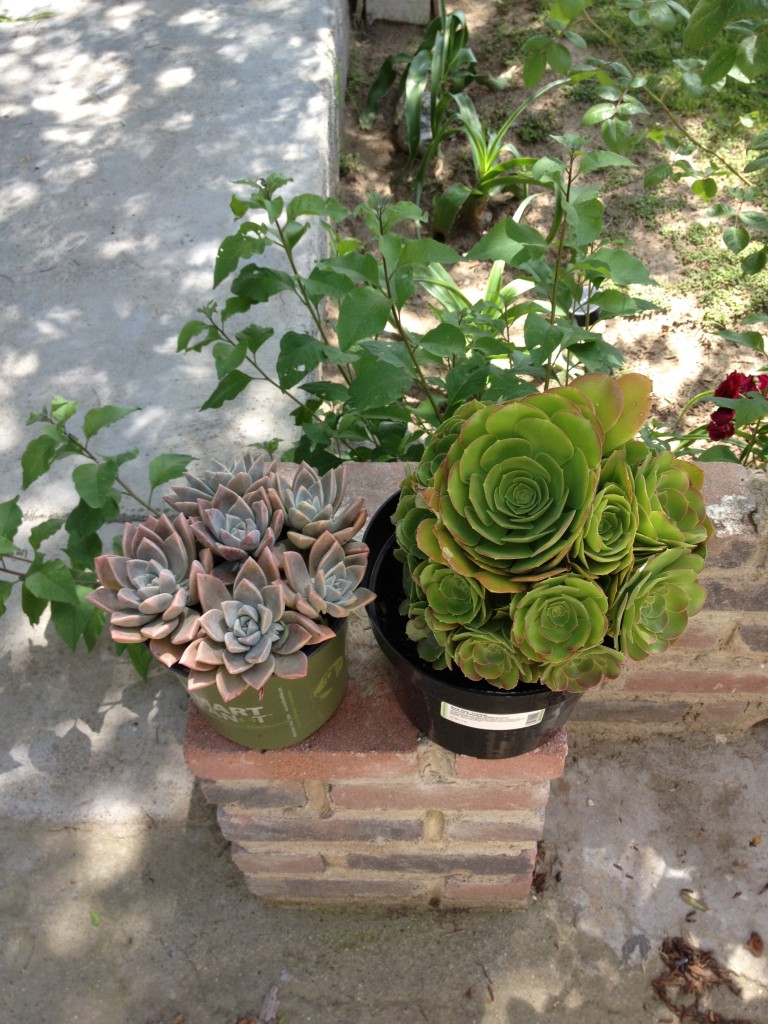 Speaking of weddings…check out the succulent plants I just purchased. They are gorgeous! You can read more about succulents on my wedding blog.
Wearing: JcPenney top seen here, Guess shoes via Ross seen here, Forever 21 Skirt
Next Sunday post your Sunday Best photo on the MoMoMod FB page or send me your photo via email (chandra @ momomod dot com)!